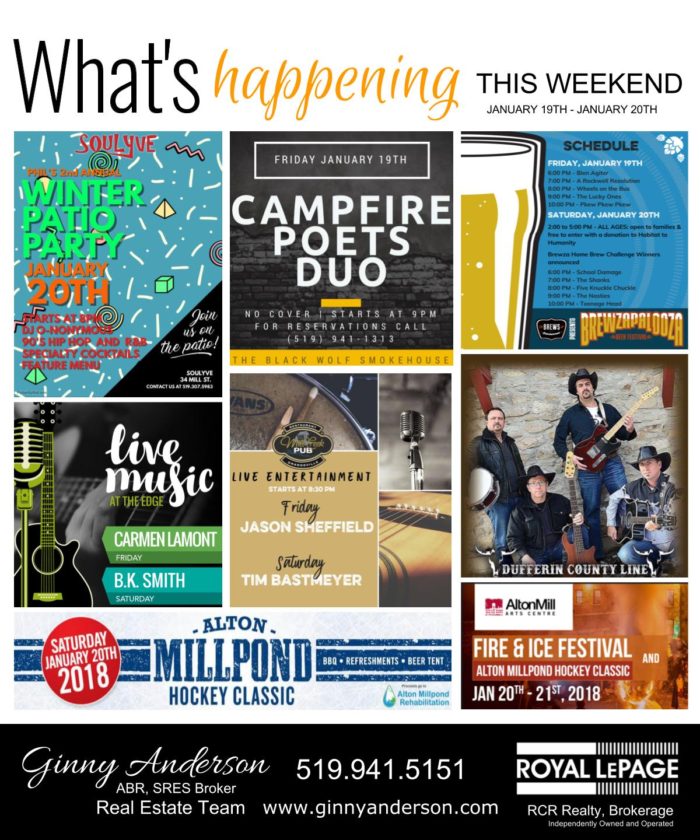 What's Happening this weekend!
January 19th – January 20th Weekend in Orangeville and Area there is lots to do!
#Family and #Community events!
Fire & Ice Festival & Alton Millpond Hockey Classic Saturday! All day family event! – All-ages community festival celebrating outdoor winter fun & flames returns with highlights including: an after-dusk fire sculpture on Saturday, millpond skating and curling, maple syrup and other tasty treats, a super snow slide, bonfires, indoor storytelling and indoor art activities, raku pottery firing … and so much more!
Family Movie Matinée January 20 @ 2:00 pm – 4:00 pm Orangeville Public Library – 1 Mill St. Bring the whole family to enjoy a weekend movie screening of Despicable Me 3. No registration is required. Please note, this program is not supervised. Bring your own snacks!
Brews and Entertainment – Brewzapalooza – January 20th
2-5pm All ages open to families FREE with donation to Habitat for Humanity.
#LiveMusic #LiveEntertainment
Friday Night:
Fionn MacCool's Orangeville – Tom Kovacs 8:30pm
Mill Creek Pub & Restaurant – Jason Sheffield 8:30pm
The Black Wolf Smokehouse – Campfire Poets Duo 9:00pm
Bar on Broadway – Dufferin County Line 8:00pm
The Edge Wine Bar and Grille – Carmen Lamont 7:00pm
Brews and Entertainment – Brewzapalooza live music – 6:00pm tickets at gate!
Saturday Night:
Mill Creek Pub & Restaurant – Tim Bastmeyer 8:30pm
The Edge Wine Bar and Grille – B.K. Smith 7:00pm
Fionn MacCool's Orangeville – Bobby Cameron 8:30pm
Soulyve Caribbean Kitchen – Second Annual Winter Patio Party 8:00pm
Brews and Entertainment – Brewzapalooza live music – 6:00pm