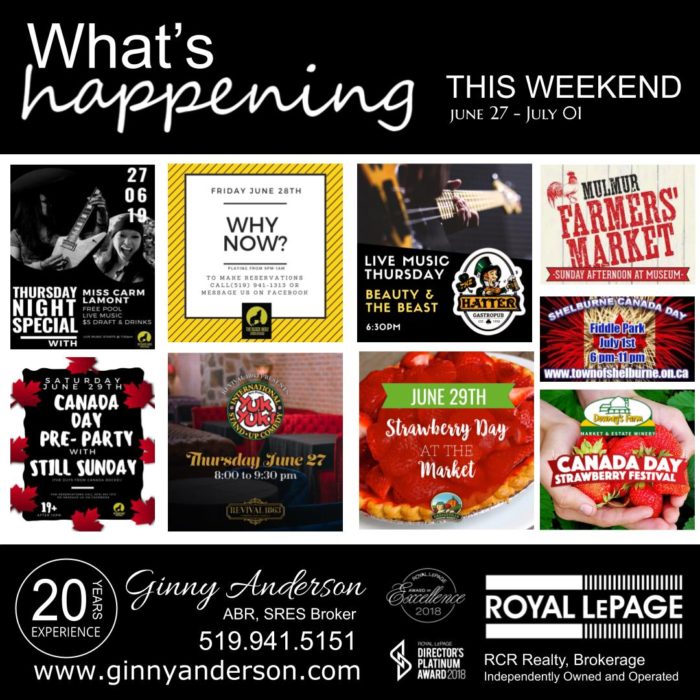 What's Happening This Weekend!
June 27 -July 01 Weekend in Orangeville and Area there is lots to do!

#CommunityEvents

Strawberry Day at the Market – Orangeville Farmers' Market is open this Saturday from 8AM-1PM

41st Annual Bolton Truck & Tractor Pull June 28 6:00 pm – 11:00 pm Albion & Bolton Fairgrounds

Mulmur Farmers' Market June 30 12:00 PM – 4:00 PM Museum of Dufferin, 936029 Airport Road

#CanadaDay

Canada Day – Alder Recreation Centre – Free activities and entertainment from 11:45 a.m. to 5 p.m. Featuring face painting, balloon twisting, an airbrush tattoo artist, a professional photo booth, colouring, crafts and inflatables.

Canada Day – Alder Recreation Centre – Free Public Swims 12 – 1 p.m., 1:45 – 2:45 p.m, 3:30 – 4:30 p.m.

Canada Day – Alder Recreation Centre – The Great Canadian Lumberjack Show 12:30, 2:30, and 4:30 p.m. You will see lumberjacks compete in axe throwing, chainsaw carving, wood chopping, and cross-cut sawing while keeping the crowd laughing!

Island Lake Fireworks at 10 p.m. Campfire Poets at the Island Lake Amphitheatre 6:30-9 p.m. (regular park admission applies until 9 p.m.)

Shelburne Canada Day July 1 6:00 pm – 11:00 pm Shelburne Fiddle Park – There's plenty of entertainment for everyone! Live bands will perform on stage, games for all ages, face painting, foodies can choose from a wide assortment of food, and fantastic fireworks.

Caledon Canada Day Strawberry Festival July 1 8:00 am – 4:00 pm Caledon Fairgrounds

Downey's Farm Market 9 a.m. to 4 p.m. Join us for a day of celebration as we recognize the birth of our glorious country with live music from several local groups, exciting and thrilling activities, a dog show, and u-pick strawberries!

#LiveMusic #LiveEntertainment

THURSDAY

The Black Wolf Smokehouse
Carm Lamont 7:30PM
Revival 1863
Yuk Yuks 8:00PM
The Hatter
Beauty & The Beast 6:30PM

FRIDAY

Revival 1863
7:00PM
The Black Wolf Smokehouse
Why Now 9PM
Mill Creek Pub & Restaurant Orangeville
Campfire Poets 8:30PM
Mill Creek Pub & Restaurant Grand Valley
Hannah Chapplain 6:30PM

SATURDAY

The Dufferin Public House
Little Black Dress Party 9PM
Barley Vine Rail Co.
Under the Covers 7:30PM
Mill Creek Pub & Restaurant Orangeville
Tim Bastmeyer 8:30PM
The Black Wolf Smokehouse
Canada Day Pre-Party with Still Sunday 9PM