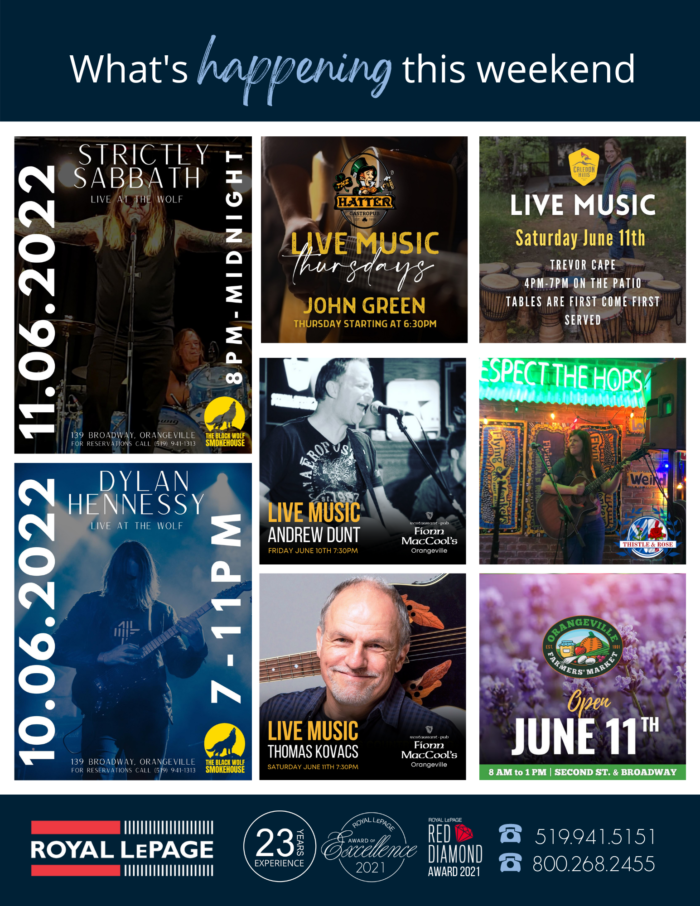 What's Happening This Weekend
Here is what happening in and around Orangeville, support local Restaurants and Shops.
LOCAL EVENTS
The Orangeville Farmers' Market returns this Saturday from 8am-1pm – rain or shine!
160th Caledon Fair Caledon Fairgrounds. Featuring truck and tractor pull, demo derby, Agricultural Awareness Tent, hall exhibits, entertainment and more!
Dufferin County Multicultural Event Museum of Dufferin. June 11 @ 11:00 am – 4:00 pm Join in celebration! Enjoy cultural arts, crafts, performances and food. We will also have a market with some unique finds! We are now accepting submissions for art, cultural performances and vendor applications. If you are interested, please email at dcmulticulturalfoundation@gmail.com
Celebrate Your Awesome Fundraiser Dance – Ages 19+ June 11 @ 7:30 pm – 11:30 pm Rainbow Ridge Resort, East Garafraxa. An AWESOME party! 🌈 Drag Queens will be performing from 7:30-9:30pm, then we DANCE! 🌈 $10 at the door.
Hike for Hospice Dufferin and Butterfly Release. June 12 @ 9:00 am – 2:00 pm. Monora Park Pavilion.
Live Music
The Hatter – John Green, Thursday 6:30pm
The Kitchen at Mono Mills, – Elvis, Gordie McNeil, Saturday 7:00pm
Fionn MacCool's Orangeville – Andrew Dunt, Friday 7:30pm
Fionn MacCool's Orangeville – Thomas Kovacs, Saturday 7:30pm
Revival 1863 – Ragwax Trio – Friday 8pm
Revival 1863 – Pink Leather Jackets, Saturday 8pm
Wrinkly Bear Brewing Company – Line Dancing , Friday 7pm
Taphouse Craft Beer + Kitchen – Emily Gilbart, From the Road EP Release Party, Friday 7pm
The Black Wolf Smokehouse, Dylan Hennessy, Friday 7:00pm
The Black Wolf Smokehouse, Strictly Sabbath, Saturday 8:00pm