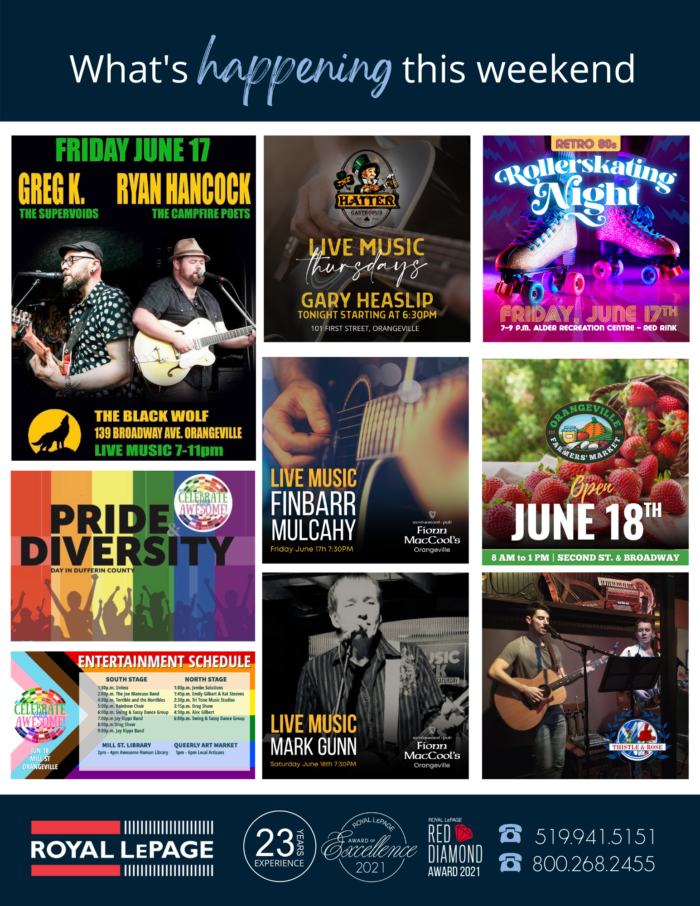 What's Happening This Weekend
Here is what happening in and around Orangeville, support local Restaurants and Shops.
LOCAL EVENTS
Celebrate Your Awesome ❤️🧡💛💚💙💜 – Pride and Diversity Day in Dufferin. Saturday 1:00 pm – 11:00 pm. Mill Street Orangeville. More information and event schedule see @celebrateyourawesome
The Orangeville Farmers' Market returns this Saturday from 8am-1pm – rain or shine!
Roller Skating Night Alder Street Recreation Centre – Friday 7:00 pm – 9:00 pm 275 Alder St, Orangeville.
Live Music
The Hatter – Gary Heaslip, Thursday 6:30pm
Fionn MacCool's Orangeville – Finbarr Mulcahy, Friday 7:30pm
Fionn MacCool's Orangeville – Mark Gunn, Saturday 7:30pm
Revival 1863 – Lost Vegas – Friday 8pm
Revival 1863 – Gary Cain, Saturday 8pm
The Black Wolf Smokehouse, Greg k and Ryan Hancock, Friday 7:00pm
Tipsy Fox Pub & Grill – Shelburne – Adult Prom, Saturday 8:00pm
Thistle and Rose – Shallow Wells – Saturday 2.30pm