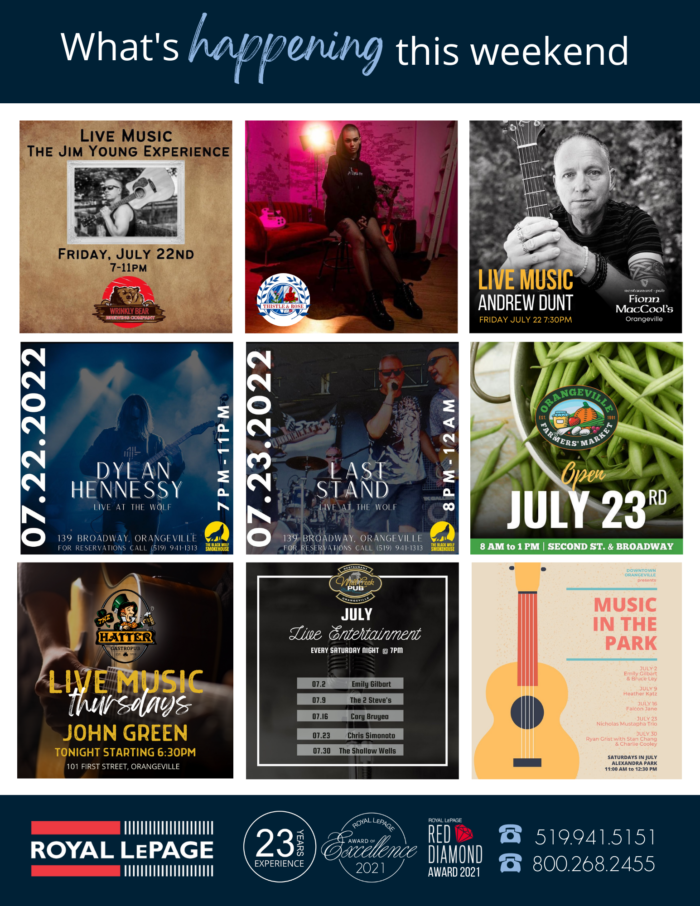 What's Happening This Weekend
Here is what happening in and around Orangeville, support local Restaurants and Shops.
LOCAL EVENTS
The Orangeville Farmers' Market returns this Saturday from 8am-1pm – rain or shine!
Join us for Music in the Park, every Saturday in July! Pack a picnic blanket to stay awhile, or hum along while you shop the Farmers' Market on Second Street. 11am to 12:30pm in Alexandra Park (behind Town Hall), every Saturday in July. Check out the impressive line-up including Falcon Jane, Emily Gilbert, Ryan Grist, Nicholas Mustapha, Heather Katz & more!
Live Music
The Hatter – John Green, Thursday 6:30pm
Revival 1863 – Frank Adriano, Friday
Revival 1863 – Compliments of the House, Saturday
Wrinkly Bear Brewing Company – Jim Young, Friday 7:00pm
Fionn MacCool's Orangeville – Andrew Dunt, Friday 7:30pm
The Black Wolf Smokehouse – Dylan Hennessy, Friday 7:00pm
The Black Wolf Smokehouse – Last Stand, Saturday 8:00pm
Thistle and Rose – Mela Bee, Saturday 2.30pm
Mill Creek Pub & Restaurant Orangeville – Chris Simonato, Saturday 7:00pm
The Kitchen at Mono Mills – Abbamania Canada – Saturday 7:00pm