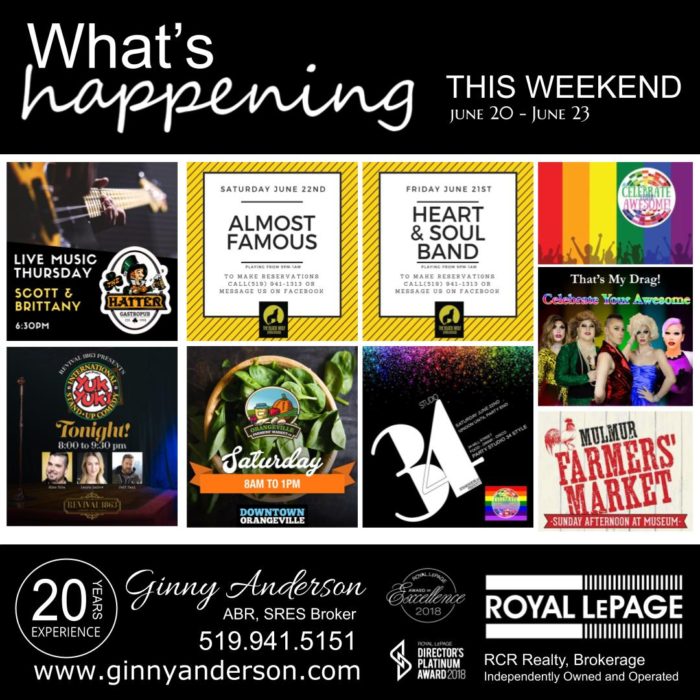 What's Happening This Weekend!
June 20 -June 23 Weekend in Orangeville and Area there is lots to do!

#CommunityEvents

The Orangeville Farmers' Market is open this Saturday from 8AM-1PM

Celebrate Your Awesome 2019 – June 22 11:00 AM – 11:00 PM Mill Street in Orangeville. Celebration of pride and diversity! Live music all day and fabulous vendors.

That's My Drag – Check out this fantastic team of Drag stars hitting the main stage in Orangeville at Mill street for two seperate shows! Early show: 5PM (All Ages) Late Show: 9PM (PG13)
Indigenous People's Day June 21 1:00PM – 10:00PM Alexandra Park, 11 Second Street behind Town Hall Orangeville

Strawberry Pancake Breakfast & Silent Auction June 22 8:00 AM – 11:00 AM Hockley Community Hall, 994174 Mono/Adjala Townline

Mulmur Farmers' Market June 23 12:00 PM – 4:00 PM Museum of Dufferin, 936029 Airport Road
#LiveMusic #LiveEntertainment

THURSDAY

Revival 1863
Yuk Yuks 8:00PM
The Hatter
Scott & Brittany 6:30PM
The Edge Restaurant and Bar
Open Mic 7:00PM
The Dufferin Public House
Frosted Patterns 7PM

FRIDAY

Revival 1863
Graham Maycock 7:00PM
The Black Wolf Smokehouse
Heart & Soul Band 9PM
Mill Creek Pub & Restaurant Orangeville
Barry Mulcahy 8:30PM
Mill Creek Pub & Restaurant Grand Valley
Jake Del Grande 6:30PM

SATURDAY

SteakHouse63 Restaurant
Studio 34 Party 12:00PM
Revival 1863
Tinker Bang & Blow 7:00PM
Barley Vine Rail Co.
Jake Del Grande 7:30PM
Mill Creek Pub & Restaurant Orangeville
The Edge 8:30PM
The Black Wolf Smokehouse
Almost Famous 9PM