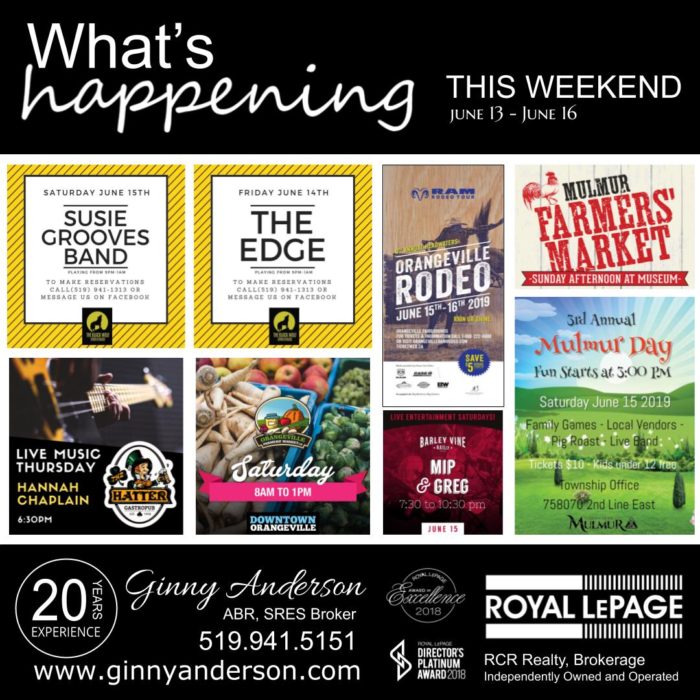 What's Happening This Weekend!
June 13 -June 16 Weekend in Orangeville and Area there is lots to do!

#CommunityEvents

The Orangeville Farmers' Market is open this Saturday from 8AM-1PM

Family Movie Matinée – Captain Underpants June 15 2:00 pm – 4:00 pm Orangeville Public Library – Mill St, 1 Mill St

3rd Annual Mulmur Day June 15 @ 3:00 pm – 9:00 pm Mulmur Township Office, 758070 2nd Line East

Caledon Day June 15th 2:00 pm – 11:00 pm, 6311 Old Church Road Caledon. Free, family-focused event. kids' zone, vendor zone, new Caledon Public Library Tech Fair, food and beverage zone, main stage entertainment and fireworks.

Mulmur Farmers' Market June 16 12:00 pm – 4:00 pm Museum of Dufferin, 936029 Airport Road

#LiveMusic #LiveEntertainment

THURSDAY

The Hatter
Hannah Chapplain 6:30PM

FRIDAY

The Black Wolf Smokehouse
The Edge 9PM
Mill Creek Pub & Restaurant Orangeville
Hannah Chapplain 8:30PM
Mill Creek Pub & Restaurant Grand Valley
Wolf Bros 6:30PM

SATURDAY

The Dufferin Public House
Rolling Boil 9PM
Barley Vine Rail Co.
MIP and Greg 7:30PM
Mill Creek Pub & Restaurant Orangeville
Wolf Bros 8:30PM
The Black Wolf Smokehouse
Susie Grooves Band 9PM