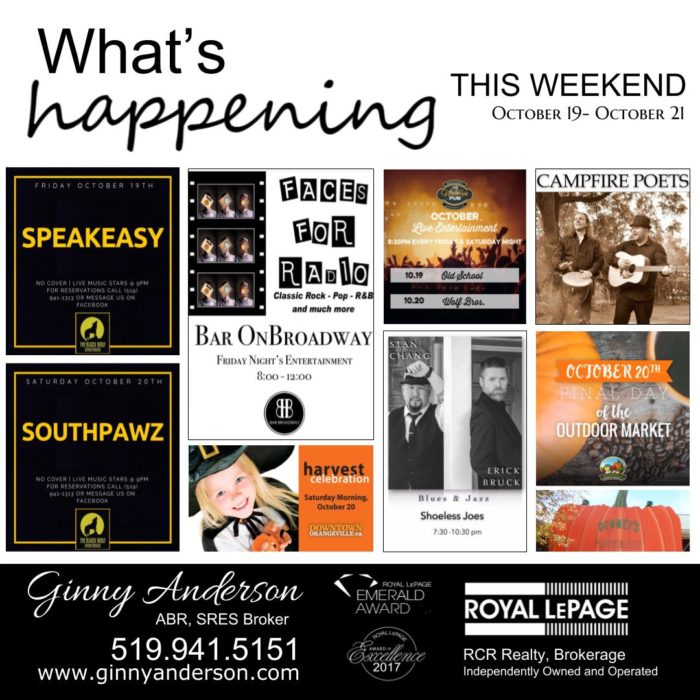 What's Happening This Weekend!
October 19 – October 21 Weekend in Orangeville and Area there is lots to do!
#Community Events
Family Movie Matinée – Casper October 20 2:00 pm – 4:00 pm Orangeville Public Library – Mill St
Orangeville Farmers' Market LAST DAY!, 8:00 am – 1:00PM Downtown Orangeville
Harvest Celebration October 20 10:00 am – 1:00 pm Downtown Orangeville, Celebrating all things autumn. Pumpkin carving and scarecrow displays, tiny tots trick or treating at participating downtown businesses, pony rides, petting zoo, free face painting and live entertainment.
Fall Harvest Car Rally, Dinner & Dance October 20 @ 1:00 pm – 11:00 pm Monora Park Pavilion, Hwy 10, just N of Orangeville
PumpkinFest at Downey's Tons of fun, and thousands of pumpkins! Open Daily 9:00 am – 5:00 pm
#LiveMusic #LiveEntertainment
Friday:
The Black Wolf Smokehouse –  Speakeasy 9PM
Mill Creek Pub – Old School – 8:30PM
Shoeless Joe's Sports Grill Orangeville – Stan Chang and Erick Bruck 6:30PM
Bar on Broadway –  Faces For Radio 8:00PM
Fionn MacCool's Orangeville – Andrew Dunt (Solo)
Grand Spirits –  Chantal Preston 8:00PM
Saturday:
The Black Wolf Smokehouse –  Southpawz 9PM
Mill Creek Pub – Wolf Bros 8:30PM
Shoeless Joe's Sports Grill Orangeville 8:00PM
Fionn MacCool's Orangeville – Tim Ronan 8:00PM
The Dufferin Public House – Camp Fire Poets 7PM